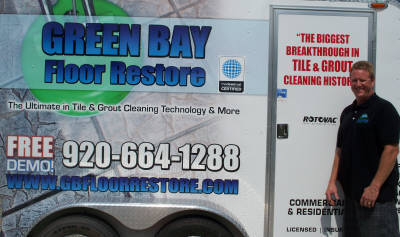 When you call the team at Green Bay Floor Restore, we pledge that you will be astonished when we leave your home or place of business. We also want you to feel you made the best investment you've ever made to have your carpets cleaned or your hard surfaces restored to their original luster.
In other words, we strive to provide you with professional, affordable, and high quality service so you are 100% satisfied with Green Bay Floor Restore. We want you to show off our work to your neighbors, friends, and family so they can see how proud you are of "the new look."
What we also promise is to be open, honest, and up front with you about the costs. Please talk to us about our 'free demo' process so you understand what we do and you can avoid any surprises or hidden charges. We will clean your carpet or hard surface (vinyl, tile, grout, natural stone) so well you will swear it's new.
Green Bay Floor Restore is a fully licensed and insured carpet and hard surface cleaning company serving the greater Green Bay, Appleton and Fox Valley area, as well as the lakeshore of Lake Michigan. Our certified technicians are committed to continuing their education, and work with the most advanced equipment in the cleaning industry.
It starts with a phone call to (920) 664-1288.