Wood Floor Cleaning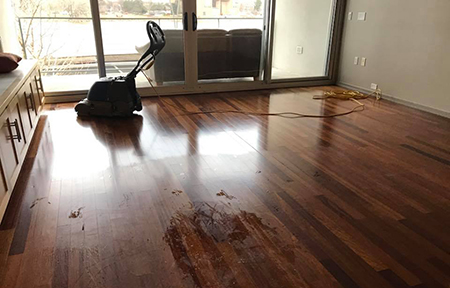 Green Bay Floor Restore offers residential and commercial hardwood floor cleaning and recoating without the dust, mess and downtime. We use a Green low odor, durable water based finish that will beautify and protect your hardwood floor with quicker drying times. We will have you back on your floor much quicker and with less mess than other methods of wood floor coatings.
We clean hardwood floors utilizing a specific industry leading wood floor cleaning tool. We use floor safe and environment safe cleaning products that are specific to hard wood floors. We offer a re-coating service after cleaning to bring more uniformity and sheen consistency back to your hardwood floor.
Give us a call for your FREE consultation
Wood Floor Sanding and Refinishing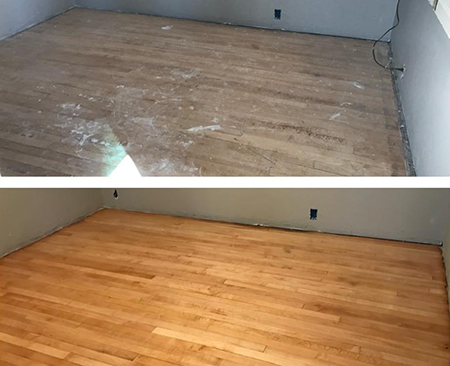 Our hardwood floor sanding process involves a rough, medium, and fine sanding with our top of the line FloorCrafter floor sanding machine. We buff the floor with a multi disc sanding plate to assure the smoothest surface possible, scrape all corners so your hardwood floor is ready for stain or finish.
Our hardwood floor water based finish cures quicker than other traditional methods to get you back on your floor sooner. Water based finishes have less odor than traditional products without affecting durability. We have Dust free equipment that is up to par with the industry standards.
Green Bay Floor Restore offers you a wood floor finish that is 5 times more resistant than Oil Modified Urethane (OMU) with fewer odors. Many of our products meet even the strictest government regulations and LEED requirements. Our water based finish dries within 2-3 hours compared to OMU's which can be a 6-24 hour period of inconvenience for you. Our products also have the fastest cure times on the market. OMU's contain petroleum distillates, which are combustible or flammable. Water based finishes are not. Which means your floors can be protected and beautified using a much safer method for you, your family, pets and employees.